This article includes the following sections:
1. Start sending data to DEXCell EM
DEXCell EM supports multiple data entries in different protocols and formats, through automatic or manual processes initiated by the user.

The main option (recommended) is the automatic data shipment through our insertion API, where the datalogger or external system performs regularly calls HTTP/S using JSON format with real-time data from the meters. For more information visit the following article 

Alternatively, DEXMA has set up integrations with multiple hardware devices and data providers via web services or databases. These integrations can be active (pull) or passive (push), depending on whether DEXMA is going to actively seek the data source, or if it is the source which sends data to servers DEXMA. Some of the most common mechanisms are:
Using the Modbus protocol, with our DEXGate2 hardware installed in the building.
Using CSV files to a DEXMA email server (push)
Through HTTP / JSON requests with a proprietary format, to a DEXMA server (push)
Using web services SOAP / XML with an external service (pull)
Through web services REST / JSON with an external service (pull)
Third party gateways already integrated
2. Obtain MAC and Token from a gateway
In this support article, it is explained how to obtain the MAC and the token from a Gateway.
 
2.1 How to obtain the MAC address
To obtain the MAC address of a gateway, go to Settings > Gateways > and Edit your gateway. You will find the MAC under "identifier" zone.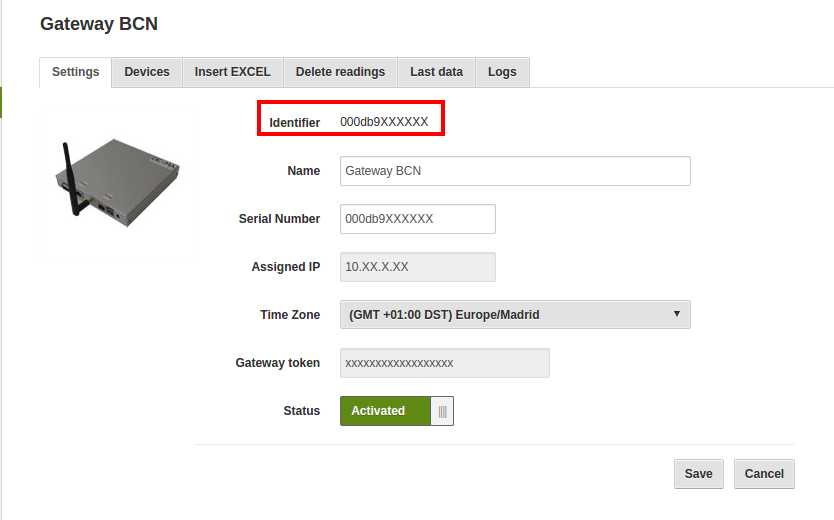 2.2 How to obtain the gateway token
To obtain the gateway token of a gateway, follow these steps:
Go to Settings > Gateways > and Edit your gateway. You will find the token under "gateway token" zone

2.3 Exceptions
There are some gateways that do not show their token in the same way in which it has been explained in the article. However, they do have a token and to know it, you can send an email to support@dexma.com. The gateways which do not show their token are:
Email Multicolumn CSV
Current cost
Virtual weather station
Power Studio Engine (Scada, EDS, R440)
Aqualogy
EKM Push
WebDyn
Generic sftp
Generic email