In this article, we will explain all the information related to the configuration of prices and tariffs in DEXCell Energy Manager. It is divided into the following sections:
1. Create a Price
We access to the "Settings" menu and we select "Supplies and Prices" option on the left menu. As you will see, we can find 2 sections: "Supplies" and "Prices".
First of all, we have to create a "Prices". We go to the Prices tab and we click on "New". Then, we have to select the different billing strategies for each of the concepts in your invoice. Let's see an example.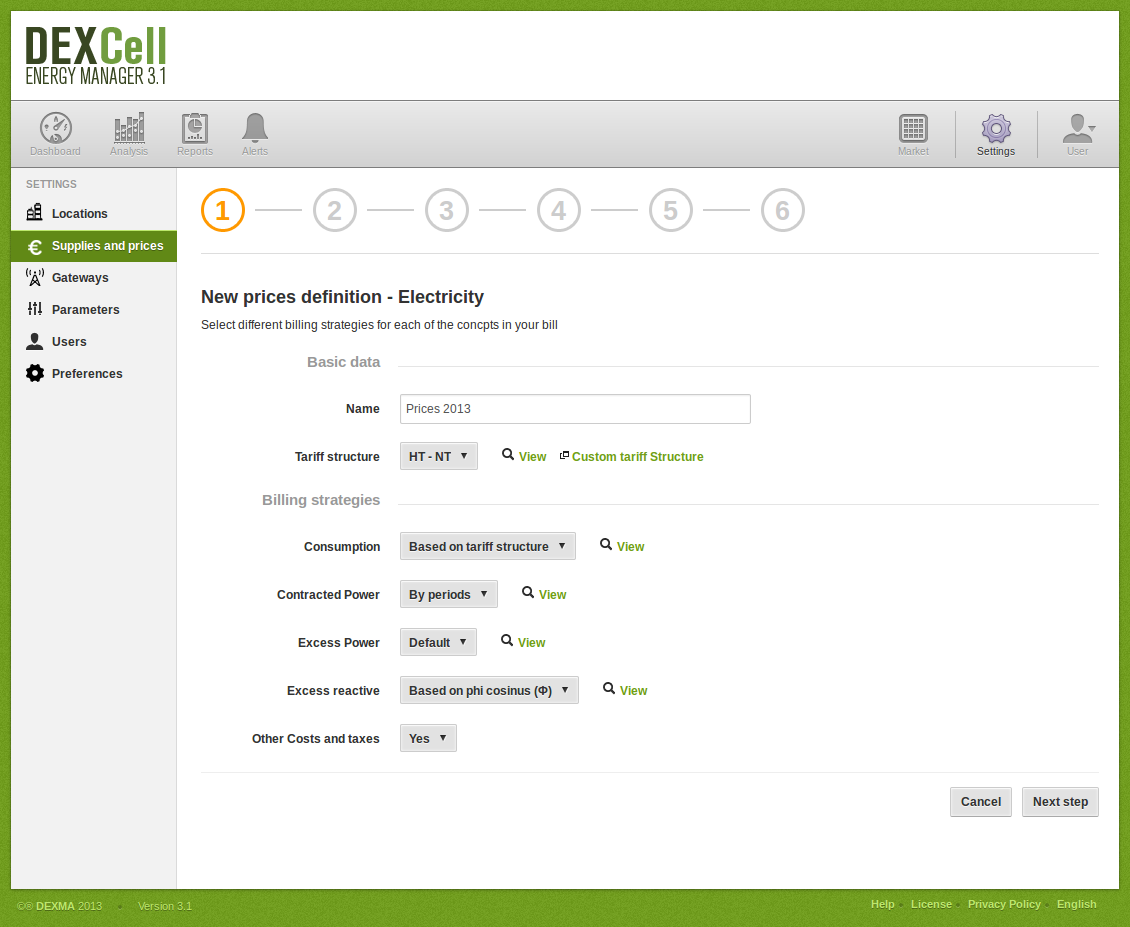 Name: write a distinctive name for your prices
Tariff structure: select your tariff structure corresponding to your bill. For example HT NT from Germany. If you want to know the information about the selected tariff structure, click on "View". If your tariff structure doesn't appear on the list, you can create a new one clicking on "Custom tariff structure". For more information, click here. 
Consumption: indicate the consumption billing strategy. In this case, "Based on tariff structure"
Contracted Power: indicate the power tariff structure (if it's applied by periods, by a single period or if it doesn't apply)
Excess Power: select the basis of the excess of power applied to our contract
Excess Reactive: select the billing strategy for the excess of reactive
Other Costs and taxes: if the contract has other additional concepts, indicate it here.
Then, we have to fill the gaps and specify that information indicated previously.
We indicate the prices based on our tariff structure. So, for each period we indicate the Cost per period. In the case that our prices change in a certain moment, we can indicate it clicking on "Add Price Change". 
We also have to indicate the Contracted load Prices per period. In the case that our prices change in a certain moment, we can indicate it clicking on "Add Price Change". 
If we have selected the option "Based on phi cosinus" in load excess, it will appear the following screen. Depending on the selected option, this step will be different.
Finally, if we have selected  the Other Costs and taxes option, we will have to indicate it
2. Create an electricity tariff structure
If any of the existing electricity tariff structure in our tariff library works for your project, you can create your own using our "Tariff structure generator" wizard.
Go to Settings > Supplies and tariffs > tariff structure library
Once in the library, you can see two different zones: Public structures, which are common structures for all users in DEXCell Energy Manager; and Private tariff structures, only available in this account.
Click on "New tariff structure" button in Private tariff structures zone.  
 In step 1 of the wizard, type a Name for your structure, select the country where it applies, the tariff time band number of periods (Peak, shoulder, off-peak,etc.), give the Official tariff name (if it has), and the Utility. If this is a governmental tariff, type "-" on the Utility input.  
Then, select how this structure is defined according to how many Week patterns it has during a natural year. DEXCell Energy Manager offers you 4 different ways to do that:

1 pattern year: 1-week pattern will be applied for the whole year
Winter/summer: 2 different patterns are applied, separated by relative dates
Monthly: 12 or more different patterns are applied, separated by static dates
Seasonal: No limit of patterns, separated by reference dates 

 

For example, let's select "Seasonal" week pattern and click "next"
Now just select the starting relative dates for each pattern. You can add more than two patterns by clicking on "Add season week pattern". You have to introduce the patterns chronologically.  
Then, start painting the weekly pattern matrix (24h x 7days) by selecting the desired period on the bottom right. P1 is the expensive period and P3 the cheapest one. 
Finally, click on the "Save" button and you are done!
Now you can create electricity supplies using your private tariff structures. See this article to learn how;)
 



3. Add a price change into a supply
If your utility has changed your energy or water prices, you need to update your contract. Here you can see how easy is!
Edit your contract
Go to "Supplies and tariffs" section,  and in your contract click on  "Add tariff change" 
Select date from which rate changes must be applied (i.e.: 1/04/2012) 
Type new prices for each period 
Save and You're done! 



4. Define reactive penalty based on Percentage Table
Here you have a real example of an electrical contract where reactive penalties are calculated in basis an Active Energy percentage table.

Contract says that tracts are as follows:
From 0% to 50% of Active Energy = 0 €/ kVArh
From 50% to 75% of Acrive Energy = 0.0323 €/ kVArh
From 75% to 100% of Active Energy = 0.0421 €/ kVArh
So, we need to fill reactive energy penalty section as follows: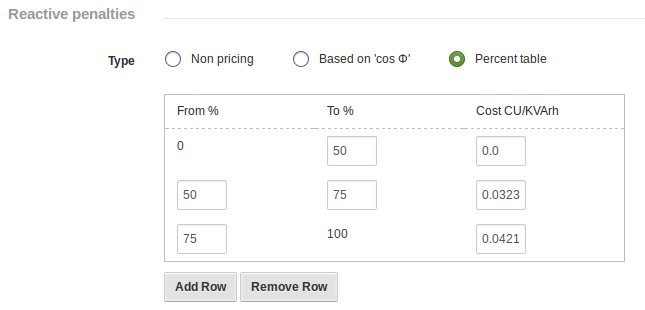 Save and You're done!