Introduction
Nowadays, the EMS Platform is improving to support
up to 18 languages
! Either if you are a Partner or not you now can teach the Platform to speak your language.
Available languages
These are the available languages for DEXMA:

Your language is not here? Let us know in
support@dexma.com
and we'll add it for you!
Translation
Crowdin is the localization solution that we use for translating our products into different languages.
Through this app we can translate the platform either from the Platform or from the app directly.
Requirements
In order to start translating, beforehand you have to:
First of all you must create a user in DEXMA that you will use to translate the Platform
Send this user to support@dexma.com so that our Support team can enable the translator to it.
The support team will send you an invite to create an account in Crowdin
Create an account in crowdin through the email sent by the support team (with the email of the translator user) through here.
Once everything is well set up, you can access DEXMA as usual and start translating
How does it work?
There are 2 different ways of translating:
Once the translation is done, it must be approved and updated by DEXMA.
Translation via Crowdin
Translating can be done with the crowdin built in editor.
For this, select the language you want to translate and then the file that you want to translate. Remember to approve any strings you have translated so they can be included in the build.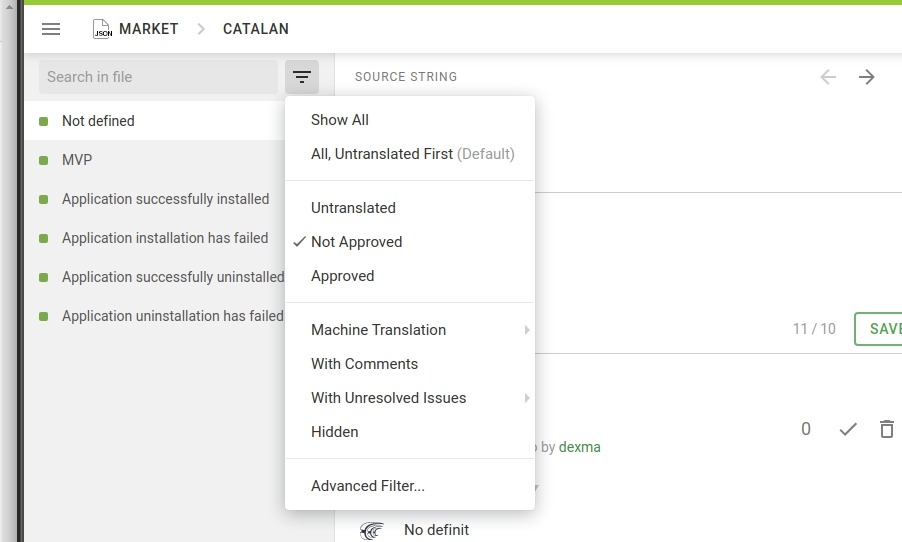 Translation in-context
A very nice feature of crowdin is the possibility to perform translation in-context while using the web application.
When logging into the EMS Platform as a user that has in-context localisation, you will be prompted with the target language you want to translate (but you can change it from the lower bottom crowdin menu) and prompted to sign in in your crowdin account.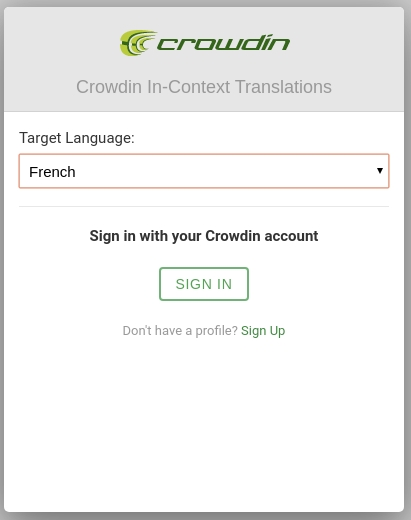 Afterwards you need to go to the lower bottom language selection and select Translator as language. Then you will be able to use this feature.