This application allows visualizing the consumption of all your locations in Google Maps! It allows generating a ranking between all the location with the option of using custom ratios for benchmarking and filtering by consumption.

Once installed the Location Map App will show up in your root and zone dashboards
Getting started


1. Date range picker: select the period of time for the scatter plot analysis. You can use the presets available to move quickly (today, yesterday, last 7 days, last month...)
2. Device selector: select the "Reference meter" type which you are going to compare all your location. You can select, i.e, Main, HVAC, Machinery, Lighting...
3. Parameter: select the parameter which you want to visualize and compare your locations
4. Ratios: you can divide your consumption for the desired ratios and compare in a more realistic way all your locations taking into account external factors. By default, it is selected the "Surface" ratio.
5. Ranking: clicking on "Show ranking", you will be able to visualize a detailed ranking of all the locations, indicating its corresponding energy consumption.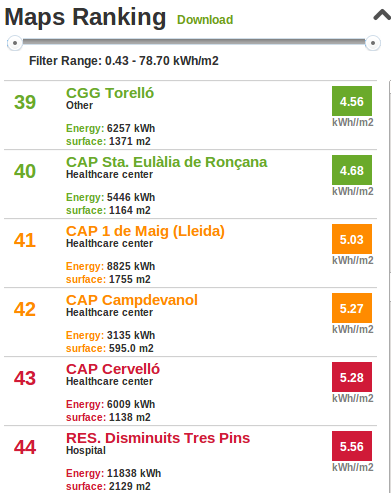 Results
As we can see in the previous image, the ranking will differentiate between 3 groups of locations:
Efficient

Normal
Inefficient
No data
Each of the locations will be listed with the basic information and the consumed energy for the selected period of time. Moreover, we can make a filter into the ranking and visualize the desired consumption range we want to analyse.

Clicking on "Download", we can download in an excel file the established ranking according to the selected ratio or ratios.
Moving the cursor over the map, we will see in detail each of the locations and their rate of consumption. Similarly, we can quickly see if the location is not so efficient according to the colours specified above.