This application allows you to create new virtual devices using existing devices and establishing formulas defined by the user. Example: v1 + v2 - (v3*0.5)/v4
Getting Started
The first step before starting to use the application is to create a new virtual gateway where all the new virtual devices created in this application will be associated with. For more information, you can check the following article.
Then, click on the "Add Gateways"

button

. Here we have to select the gateway created in step 1 and indicate the token you can find when you are editing the gateway (for more information, visit the following article). Once you have indicated the token, by clicking on "Save list" it should appear a "green tick" near the token, indicating that everything is correct. 

Then, we click on "Add new device" in order to start creating a new virtual device

Name: name of the device. This name will represent the ID of the device, so it should be unique and not use special characters.  
Gateway: we have to select where it will be created the new device. It has to be one of the gateways configured in steps 1 and 2.
Parameter: final parameter of the devices. Example: Active Energy, Reactive Energy, etc.
Frequency:  frequency of the imported data. 

Once we have indicated the previous fields, we click on "Show list of variables" and "Add new variable". Here we have to select all the devices that will be part of the formula in order to create the new virtual device.  

vX: name of the variable we have to use in the formula. They are created consecutively and automatically.
Device: one of the devices used to create the new virtual device and that appears on the formula.
Parameter: initial parameter. It's related to the device previously 

selected.

Formula: indicate the final formula la formula using the variables previously created. We can use any kind of operations: addition, subtraction, multiplication, division, sin, cos, etc.
 Save all devices: save all the devices created.
Once the new virtual device has been created, it needs to be accepted in the Virtual Gateway created in step 1 (in Configuration > Gateways). *
To finalize the process, the new virtual device must be assigned to a location. Without this final step, you will not be able to see the data in DEXCell.
* Note that the virtual device will be created when new data comes in. We can provoke the creation by recalculating the virtual meter (see following section)
Note: Use a point for the decimal numbers (Ex: 0.2)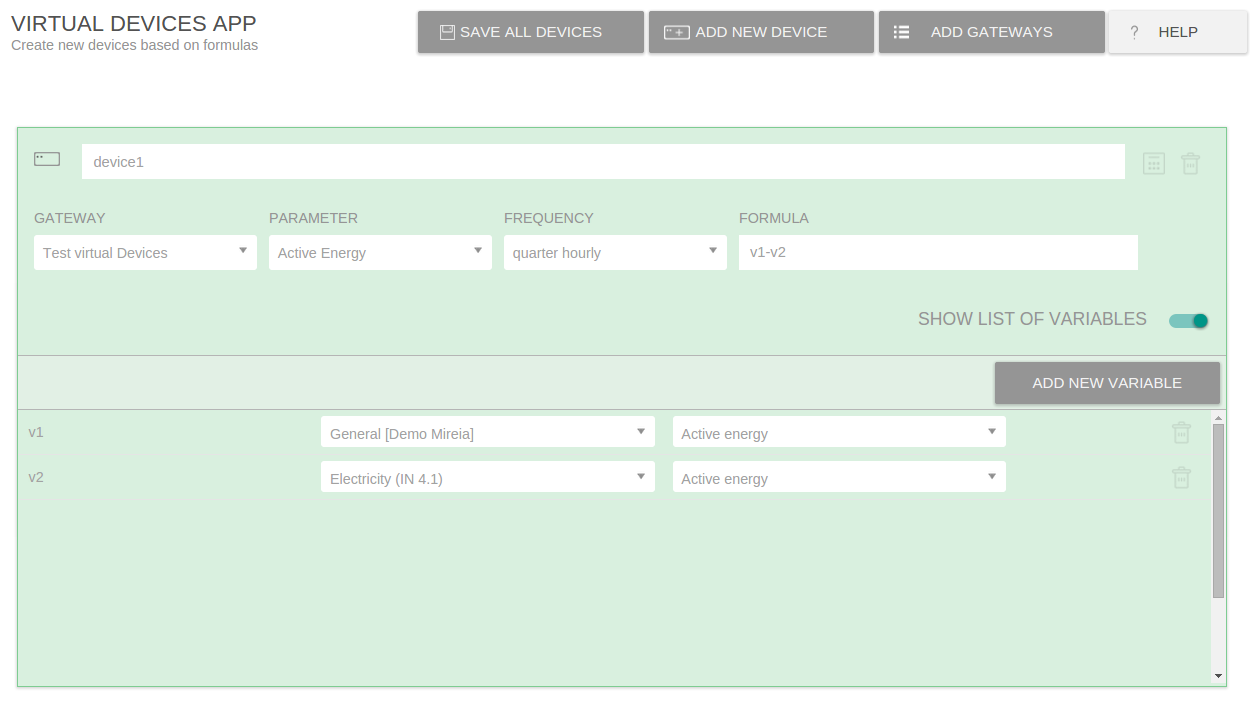 Edit, recalculate and delete a device
In order to calculate historical data of the new virtual device, click on "Recalculate". Select the "From" and "To" and wait until all the data is imported. Remember that all the devices that form the new virtual devices must have data available.
If you want to delete a device, just click on "delete device".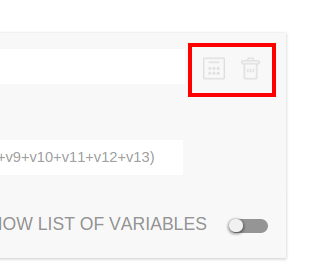 ​
Available operations
Basic: sqrt, factorial, floor
Logarithmic: exp, log, log10
Trigonometric: sin, cos, tan, tanh



To keep in mind
New virtual devices will count as new datapoints, so you will need extra datapoints in order to accept them. 
The app will be executed every 2 hours and will calculate the values from 6 hours ago. This restriction is to assure that all the data included in the formula have arrived correctly.
If data has not arrived for one or more variables 

in a formula, the Virtual Devices App won't calculate any value. If this only occurs only for a certain period of time, i.e. one hour, only this hour will be without data.

New virtual devices must be associated with a location in order to visualise them on all the analysis menus.
The app only allows up to a year of data to be recalculated at once. If you need data for a period over a year, you will have to launch the recalculation process several times (once for each year)
Example