In this article you will learn how to use the Manual Readings App, available in the DEXMA Apps Market inside the Platform.
Contents of this article:
Introduction
This application allows you to import readings or delete peaks without having to upload Excel or CSV files.

Available frequencies
The available frequencies in this App are all the frequencies that you have configured in the Preferences section of the Platform (Settings --> Preferences).
It can go from 5 min to monthly.

Available parameters
The available parameters to select in the Manual Readings app are all the parameters of the Platform. The app accepts Cumulated and discrete parameters.
Requirements
In order to be able to use this app you will need first:
To install it through DEXMA's Apps market.
A gateway available where you will import the readings.
How does it work?
Add Gateways in the app
1. Click on "Add Gateways".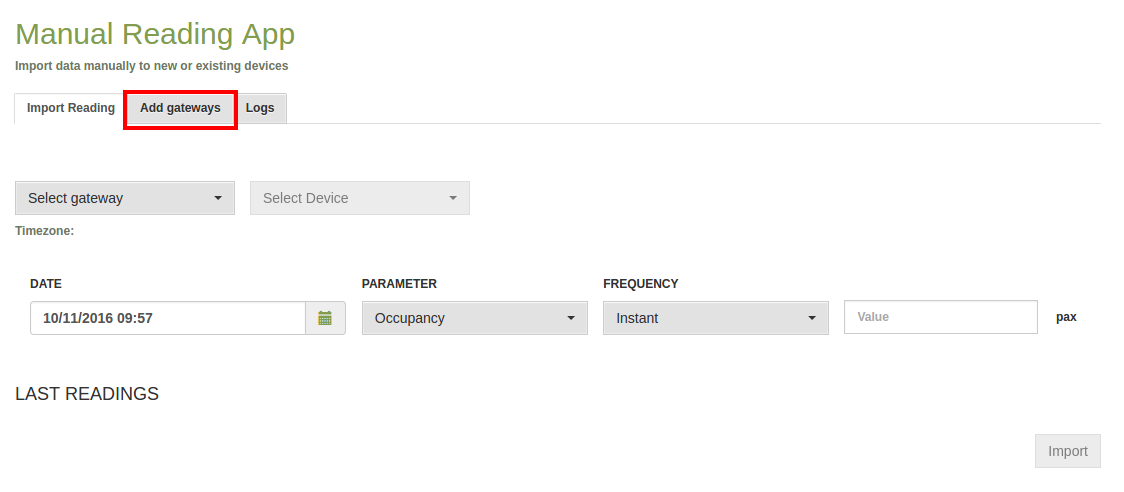 Here you have to select the gateway and indicate the token you can find when you are editing the gateway
.

Once you have indicated the token, clicking on "
Save list
" it should appear a "green tick" near the token, indicating that everything is correct.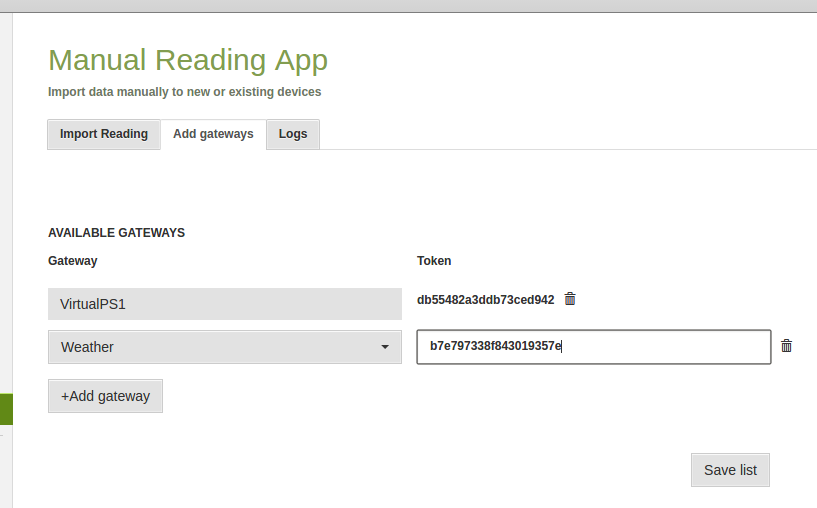 You can configure as many gateways as you need to import the readings (as many as you have available).

Import Readings
Once you are done adding all the gateways, you can start importing readings.
To do so, you will have to go to the Import Reading tab and select the gateway where you want to add the readings.



When you do this, you will have to select then the device in which you want to import the readings. There are two different options here:
Creating a new device
Choosing an existing device
Creating a new device
You can do this by selecting the option New Device on the "Dropdown".



It will appear a blank where you must write the New device's ID to identify it.
Choosing an existing device
In this case, you will only have to choose the device that you want.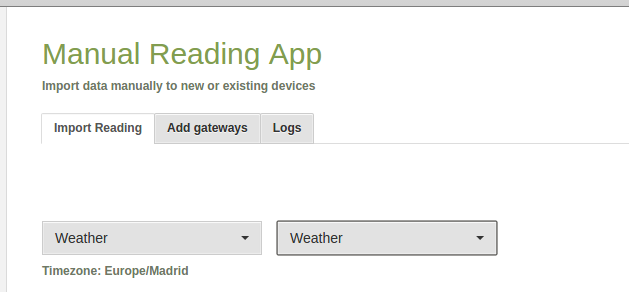 When you do this, you will be able to see the last readings from the device (in case there are any), which makes easier to know the frequency of the readings and the exact time at which you want to add the reading.

Adding the value
Once everything is ok, you must add the desired value at the exact date and time that you want it.
Then, you just have to click in Import and you will have added the new value.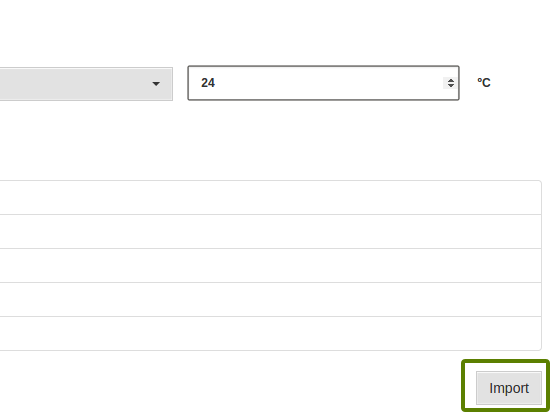 Logs
If you want to have a tracking of the values manually imported, you can go to the
Logs
tab. There, you will be able to see all changes done using the App.
You can see in which device and in which parameter was the change made and the user that performed it.

Pricing
This is a free app, so you won't have to pay to download it.