In this article you will learn how to create a new Gateway.
What is a Gateway?
In the Platform, a gateway is the datalogger that stores all the information coming from the data insertion.
Each gateway contains 1 or more devices (meters) and each meter contains 1 or more parameters (measurable factor of a set).
A gateway in the Platform can be the gateway installed in the field (so a physical gateway) or it can be virtual.
Gateways available in the Platform
There are 3 different types of gateways in the Platform
Physical gateways
We have a set of physical gateways integrated with the Platform. This means that if you install any of these types of gateways in the field, you just have to set it up in the Platform very easily and identify them using their key or other types of credentials.
The list of physical gateways that we have already integrated is here: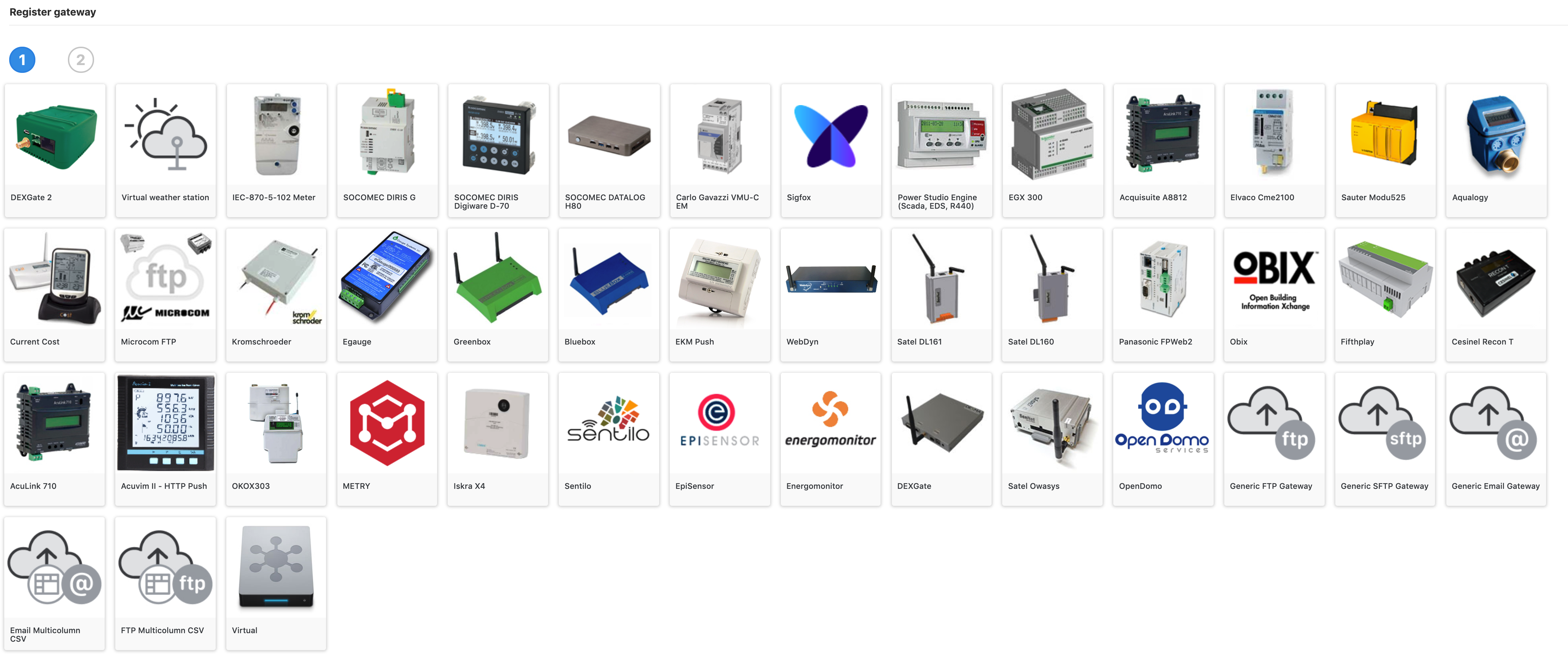 If you need to integrate any other parameter, please let us know.
FTP / SFTP / Email gateways
These types of gateways are the most used by our users. We have integrated many different file formats and they are very easy to set-up.
Check out our article to know which formats are already available
If you need to add any other format, please let us know.
Virtual gateways
Right now in the Platform, there are 2 different virtual gateways.
Create a new Gateway
In order to register a new gateway, you have to follow these steps:
Access to your account and then go to Settings on the right hand of the screen:

Click on "Gateways" menu. Here you will see all the gateways previously created or the option to create a new one clicking on "Register new Gateway".

Then, you will see all the different kinds of gateways fully integrated with the EMS Platform and available to register them. Select the desired gateway and click on Next.

Fill the gaps for the proper configuration of the gateway. Depending on the type of gateway to register, you will need specific information of the datalogger.
Once a gateway is registered, and you start sending data, you will have to follow another set of steps to visualise the data in the Platform.