As soon as we have installed our devices, they begin to appear in the DEXCell Energy Manager. But before we can access data we have to register a gateway and accept the corresponding devices. 

In order to register a Gateway, follow these steps: 
Access to your account and then go to Settings on the right hand of the screen
Click on "Gateways" menu. Here you will see all the gateways previously created or the option to create a new one clicking on "Register new Gateway". 
Then, you will see all the different kind of gateways full integrated with DEXCell Energy Manager and available to register them. Select the desired gateway and click on Next. 
Fill the gaps for the properly configuration of the gateway. Depending on the type of gateway to register, you will need an specific information of the datalogger. 

Once a gateway is registered, it will take 15-30 minutes before it begins to receive data from the devices associated with it. The DEXCell Energy Manager displays newly detected devices in a pop-up in the top right-hand corner of the screen and indicates which devices are pending approval.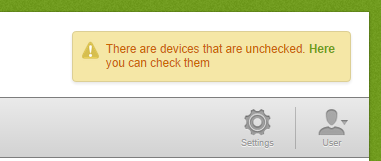 To review and accept individual devices we click on the pop-up and we go to the "Gateways" menu.   The "Gateways" menu displays an orange number next to the gateway that indicates the number of devices pending approval.

To complete the process, we click "Edit" and go to the "Devices" tab, which shows us which devices are approved, rejected or pending approval.  In the area where the pending devices appear, we can click "Accept" to finalize the approval of the device. 

Once we have accepted all the devices, we must assign them to an specific location in order to visualize their data.