In this article you're going to learn what reference devices are and how to configure them on the EMS platform.
Contents of this article:
Introduction
Reference devices are the devices that, set up in a location, indicate their "meaning" in the site. In the case of Electricity this can be: Main device, HVAC, Lightning...
The reference devices allow you to aggregate, following the locations hierarchy and tags, the consumption of your sites, in order to perform portfolio analysis.
Setting up your reference devices can save you a large amount of time in the future, and can ease considerably your day-to-day job.

Energy Sources and Reference devices available
Electricity
Gas
Water
Gasoil
Exported Energy
Thermal (heating)
Thermal (cooling)
Compressed air volume
Temperature
Solar radiation
Humidity
Liquified natural gas energy (LNG)
Biomass
For each of these Energy Sources you can create 1 or more Reference devices.
You can find the whole list of Reference meters by Energy Source available in Settings --> Preferences.
Remember that you can easily activate Reference devices that are not active by default in the same section under Settings --> Preferences.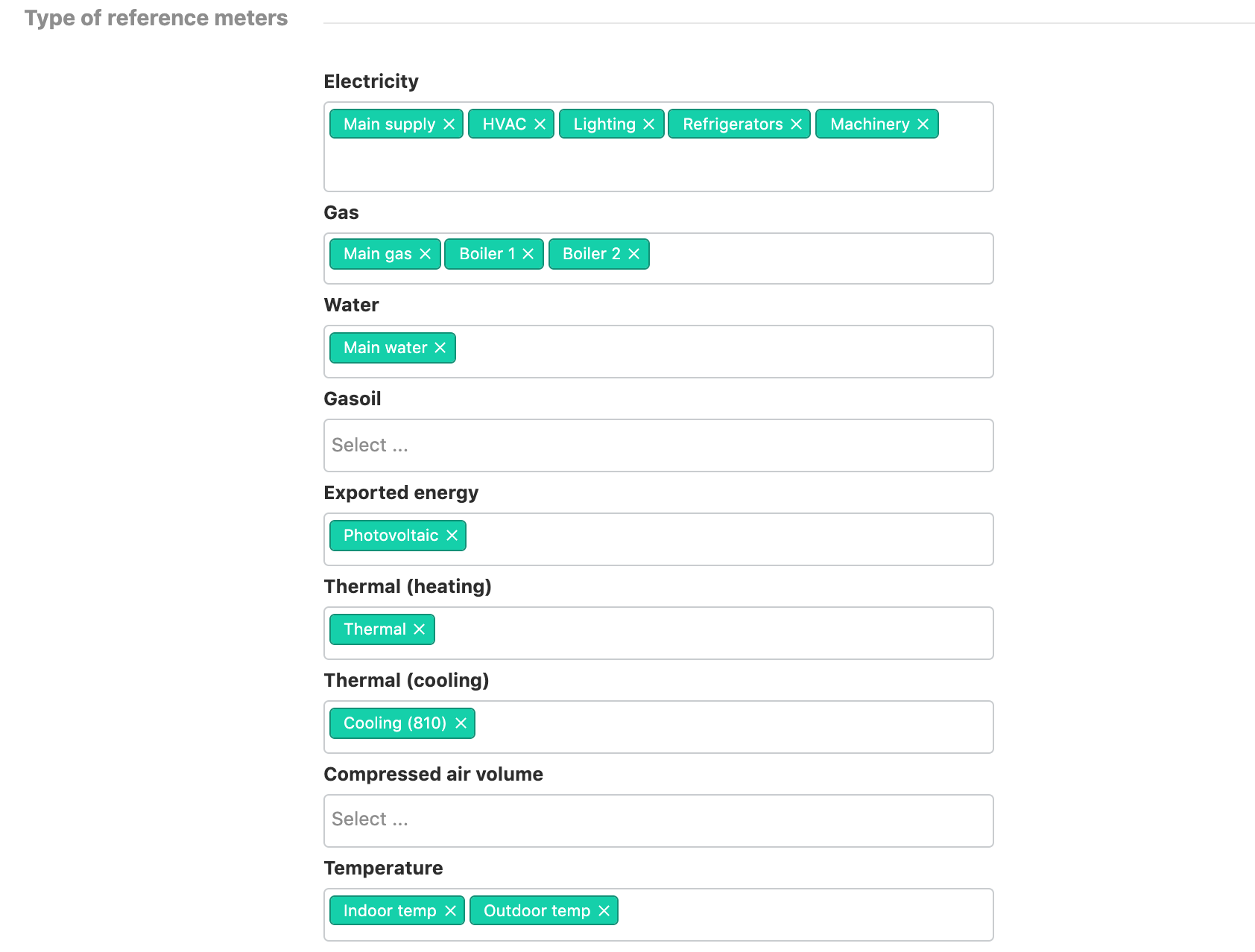 Note: For Storage Reference devices (Electricity) we have these two types:
Storage charge: energy entering the batteries - parameter 402

Storage discharge: energy coming from the batteries - parameter 452

If you need a Reference devices that is not yet available in the platform, contact us through the help center.
Requirements
To have a location or sublocation created
To have data from any of the energy sources available in a device
To have a device assigned to its corresponding location
Configuration
Prior to this point, please make sure that you have enabled in Settings --> Preferences all the reference devices that you need to use.
When setting up a location, once you have assigned properly all its devices to it, you can, at some point, indicate which is the function of each device. Here's where the reference meters settings begin.
Go to Settings --> Locations and, inside your location, go to the reference meters tab
Go to the Energy Source that you want to setup the reference meter for.
Select the device or group that is going to act as the reference meter. Check out the Tips and tricks section.

Click on save.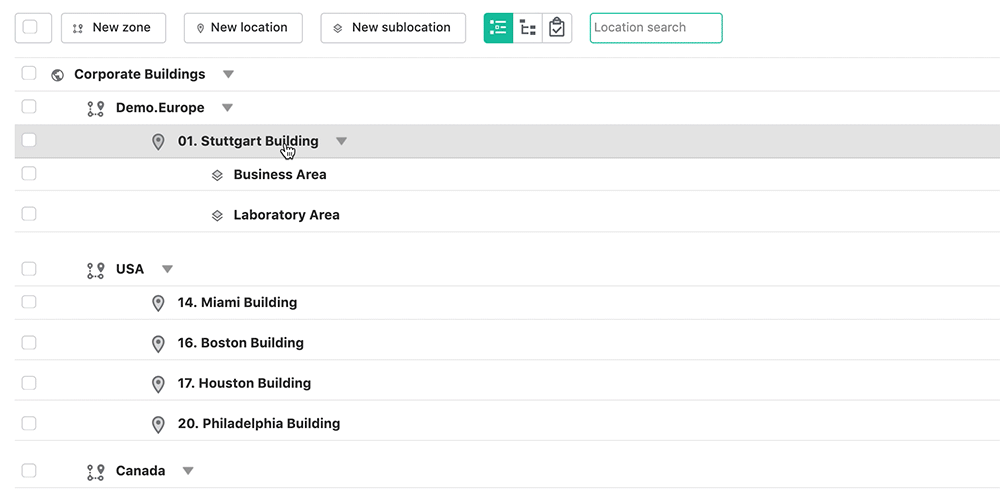 Note: Reference meters are available to be set up in Locations and Sublocations.
Use : what are they for?
The reason why Reference meters are so important is that they ease a lot the job of identification of the main devices in the platform. Once they have set up, your analysis job becomes much easier.
They are essential to:
Create Dashboard and widgets by Zone or Template.
Bill Simulation Reports.
Advanced Analytics aggregated queries.
Degree Days, automatically calculated by the platform
Tips and tricks
1. Assign as reference meters devices by hierarchy
You can select as a reference meter a device or group assigned to the location or a device or group that the location has access to by hierarchy, which means that it is assigned to a location or zone in a higher level of the hierarchy.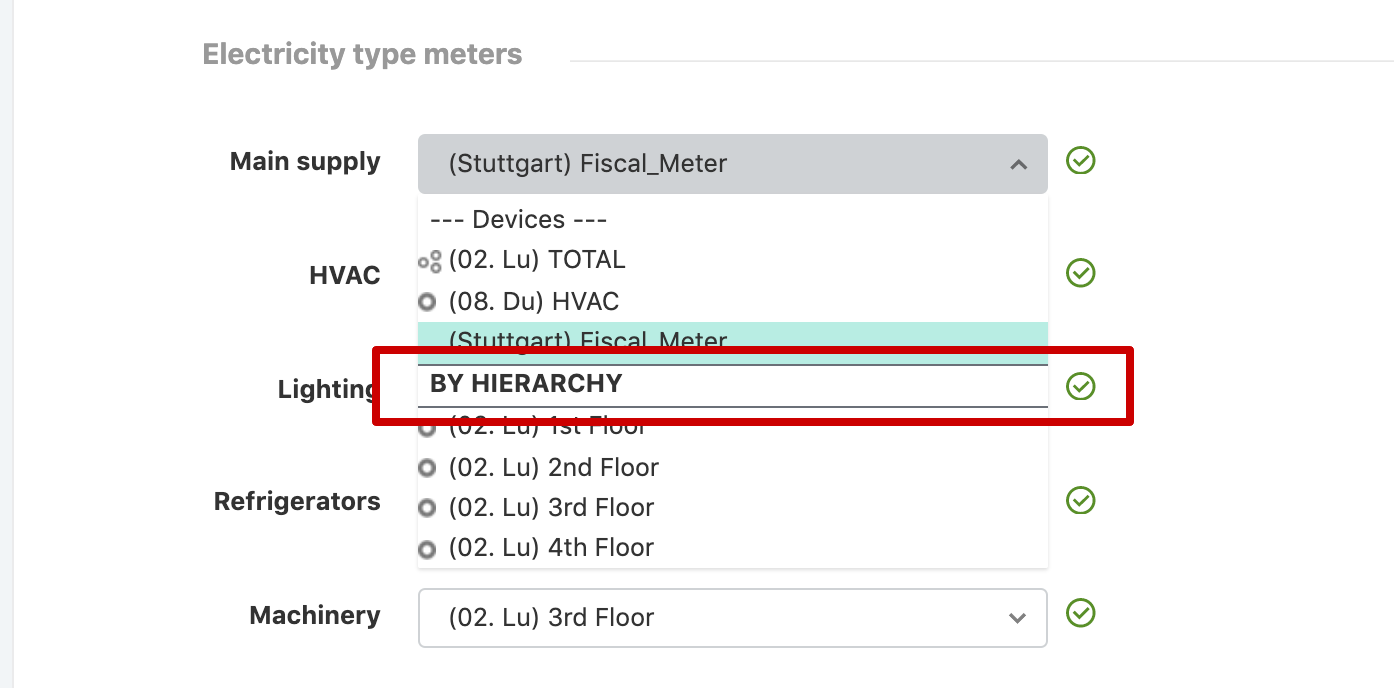 Example: Imagine that you want to share a Temperature device across multiple locations. You can assign it to the Global zone and then set this device up as the Temperature reference meter in all the locations under it. This is useful to calculate the Degree Days of several locations using the same temperature device.