Do you want to monitor exactly how your installation it's performing, getting to know the main indicators or your portfolio? Then Dashboards might interest you.
Contents of this article:
What is a Dashboard?
Dashboards are the feature which provide at a glance the main indicators of the project in order for you to gauge exactly how is your installation performing. And get the detail for every specific location.
Each Dashboard is composed by a set of widgets that can be setup to visualize different type of information about your portfolio.
New Dashboards
In the EMS Platform you can easily configure a Dashboard completely personalized, showing the information in a same place with different charts and figures as widgets.
You will find more information about these new Dashboards here.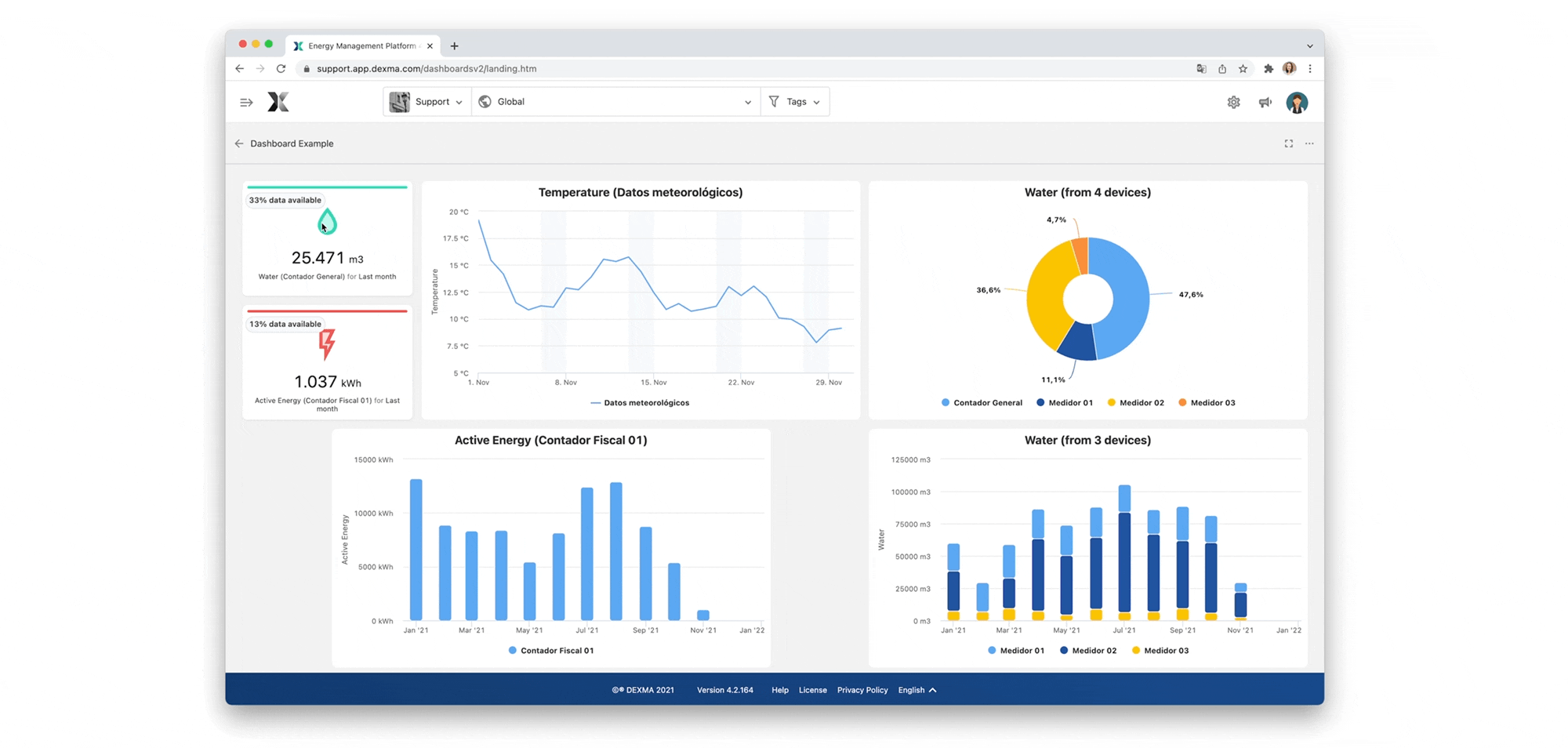 Dashboards as Apps
You can still find these Dashboards in the Dashboards screen inside Analyse.
The EMS Platform gives you the option to expand the customization of your Dashboards by allowing you to create your own Dashboards as Apps using our API, or downloading already existing Apps from the Apps market, adding them to your Dashboard section.
Among the existing Apps these are the most remarkable ones:
Legacy Dashboards
Note: The Legacy Dashboards will soon be replaced by the New Dashboards, which are much more user-friendly and offer maany new possibilites.
The platform is organized on location hierarchy levels, and so are these dashboards too. There are three types of dashboard adapted to the platform organization:
Zone Dashboard: this dashboard is used to show the aggregated data of all the locations you have. Lear how to configure them here.
Template Dashboard: this dashboard will be useful for multi-location projects. Generate a template with all the widgets you want to use in all your locations. Lear how to configure them here.
Location Dashboards: Dashboards that are unique for each location. Lear how to configure them here.
Learn how to configure dashboards and widgets in the platform.

Dashboards belong to the user that has created them, but can be shared between other users of the account.
Requirements for Legacy Dashboards
When it comes to the Zone or Template Dashboards, is important to know that in order to visualize their data it's necessary to have the reference meters properly configured on the locations affected by the Dashboard.
How to share Legacy Dashboards
As we have explained Dashboards are specific to each user. However, the platform offers the possibility of sharing them with other users who have acces to the account.
You can also share widgets that belong to dashboards on external websites in order to visualize the consumption outside the platform.