In this article, you will learn about the Virtual Weather Station gateway.
What is Virtual Weather Station?
The Virtual Weather Station is a gateway that gathers hourly weather data from weather stations worldwide through an online app.
This gateway allows you to have access to all this data without having to set up any hardware, only using your postal code.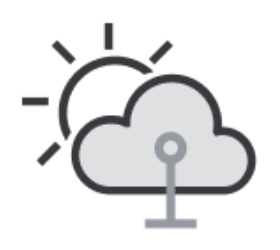 The weather parameters available can vary from one weather station to another, but generally they are:
Accumulated liquid equivalent precipitation - 315
Accumulated snowfall - 323
Air pressure - 318
Cloud coverage - 320
Dew point - 312
Diffuse horizontal solar irradiance - 331
Direct normal solar irradiance - 332
Solar radiation intensity (W/m2) - 316
Solar radiation energy (Wh/m2) - 338
Global horizontal solar irradiance - 333
Heat index - 310
Relative humidity - 302
Sea level pressure - 319
Solar azimuth angle - 336
Solar elevation angle - 335
Solar hour angle - 337
Temperature - 301
UV Index - 334
Wind direction - 314
Wind speed - 313


How to add a Virtual Weather Station in the Platform
The Virtual Weather Station is one of the gateways that are integrated with the EMS, so to start getting data from it is easy and quick.
You just have to follow the next steps:
1. Log in to the EMS with your user and password.
2. Go to the Settings section: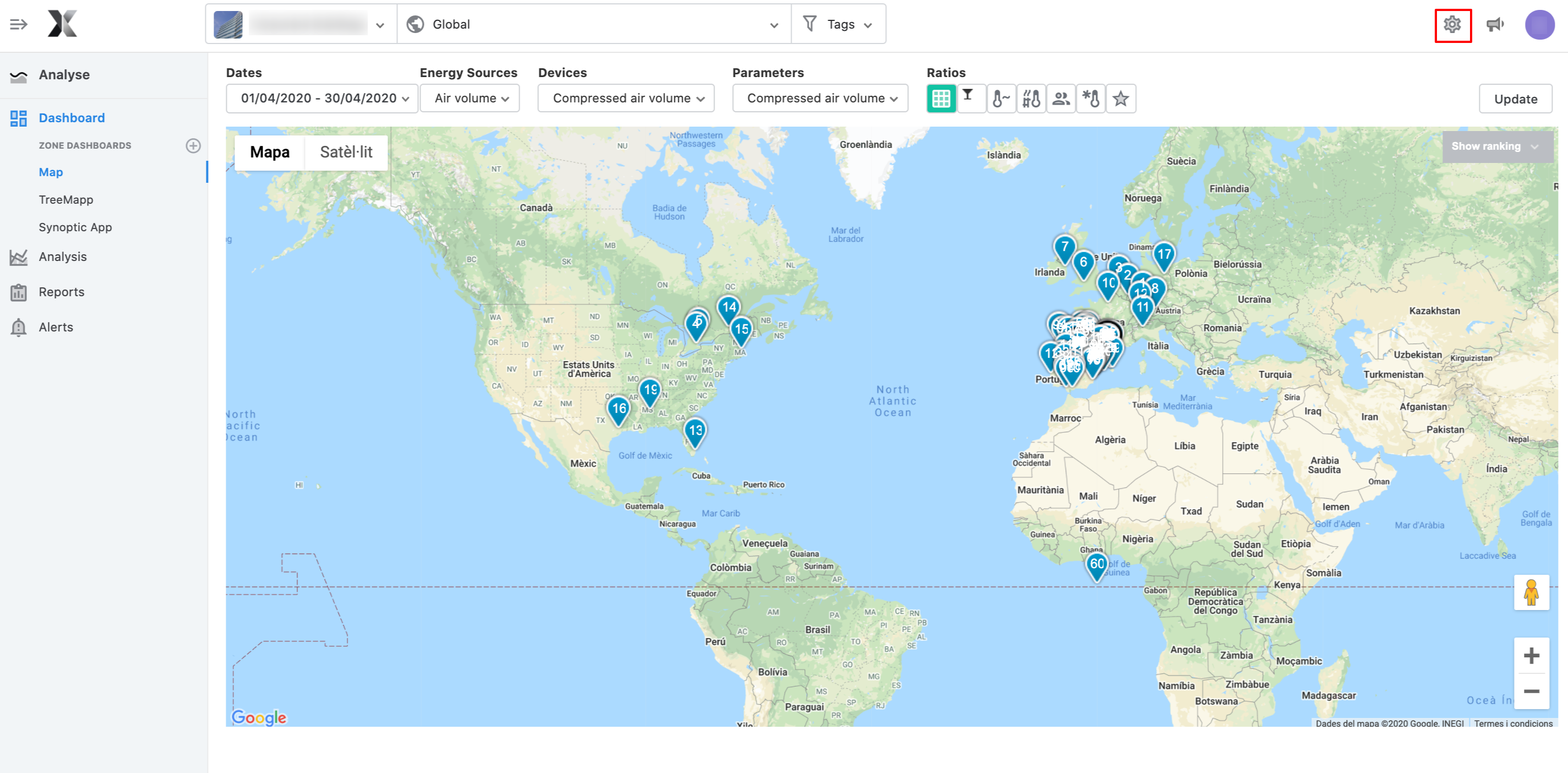 3. On the left menu select Gateways and click on Register a new gateway:

4. Select Virtual Weather Station:


5. Fill in the following fields:
Name: Write a distinctive name for your gateway.
Country: Select the Country from which you want to get the weather data.
Postcode (can be empty for cases where it doesn't exist): Write the postcode of the location form which you want to get the weather data.
Weather Station: A list will appear with the nearest weather stations to the Postcode that you set up. The map will show the exact location of each. You must select one.
Available parameters: After selecting a station, the list of available parameters will appear underneath the map.
Historical data: Check this if you want to receive the historical weather data of the selected station for a year (up to the moment when you create it). If you don't check this, you will start receiving data from the moment the gateway is created, with no historical data.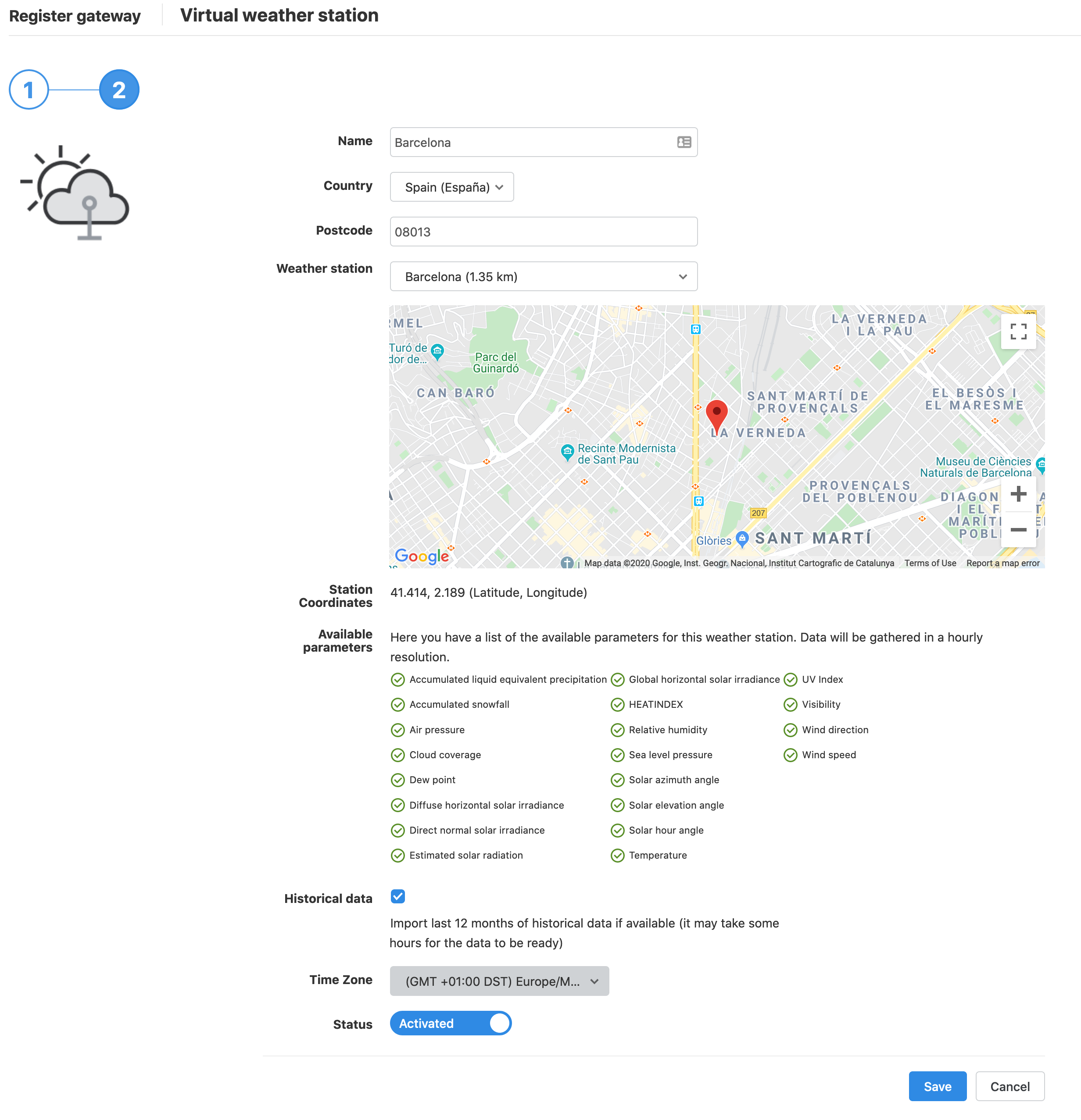 6. Save the changes on your gateway and start receiving data!


Migrate a Wunderground weather station to the current service
In case you were using the Internet Virtual Gateway Wunderground (which provided service until early 2019), you can just create the Virtual Weather Station as explained earlier on this article and set the meteo device from Wunderground as historical device of the new one, by joining devices.
Internet Weather Station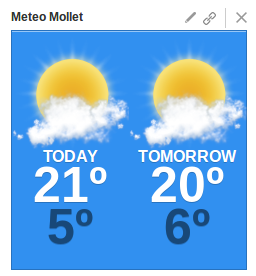 The EM Platform can gather weather information from the Internet. This system provides temperature and humidity readings worldwide and has a 5% error margin.