In this article we are going to learn how to use the Line widget.
Content:
Introduction
It displays in a solid line the readings of a specific parameter with a determined frequency and for a given period. Data of the same parameter for more than one device can be visualised.
Ex: Last 12 months of Monthly electrical consumption for device 1 and device 2.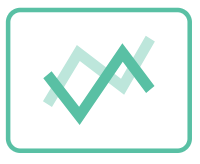 Available frequencies and periods
All resolution available in the platform can be selected (from 5 minutes to Montly). When choosing a frequency, remember you must have data in this frequency for it to be visible.
The period can also be chosen from the following ones:

Today
Yesterday
Last 7 days
Last 28 days
Current month
Last month
Year to date
Previous year
Requirements
To have available data of the parameter selected
Note that you have to select the frequency of the parameter. Ensure that you have data from that frequency when you select it.
Setup
To Setup this widget, you must have a Dashboard created beforehand.
Go to the dashboard and click on Edit Dashboard on the top right of the Dashboard.
Click on "Add widget".
Select the Line widget in the Charts section.
Select the parameter that you want to visualise.
Select the device or devices that you want to visualise the data from.
Select the resolution you want to visualise.
Select the operation that you want to apply to the parameter.
Select the period of time for which you want to visualise the data. (ie: today, last month).
Click on Save widget at the bottom.
Now the widget is ready, and it will be added to your Dashboard. If you finished editing and adding widgets, you can click on Exit edit mode in the top right corner button.
Widget detailing
The widget shows:
Readings in a solid line of the parameter selected for the specific device or devices selected at the Frequency defined and for the Period configured.
When hovering the widget lines, you can visualise the value of each point.
You can zoom in the widget to take a closer look at the data.